JEEViKA Honey (500 GM)
---
Jeevika honey is natural honey produced by jeevika SHG members.
The bee colonies are kept in mustard, pulses, maize fields and litchi orchards where bees swarm and collect nectar and pollen.
Jeevika honey contains nature's purity and goodness.
It is locally produced, filtered and packed to bring you the gift of nature for better health.
---
Health Benefits  

Naturally contains carbohydrate, minerals and nutrients
Has anti - viral and anti- fungal properties
contains powerful antioxidants
Helps ward off allergies
Helps stabilize blood pressure and blood sugar levels
Helps heal skin conditions
Promotes digestive health
---
Nutritional Value Per 100gm:
| | | | |
| --- | --- | --- | --- |
| Energy  | 320Kcal | Potassium  | 138m |
| Carbohydrate | 80g | Calcium | 13mg |
| Natural Suger | 80g | Iron | 1.5mg |
| Added Sugar | 0H | Phosphorus | 5mg |
| Sodium | 17mg | Protein | 0g |
| Fat | 0g | | |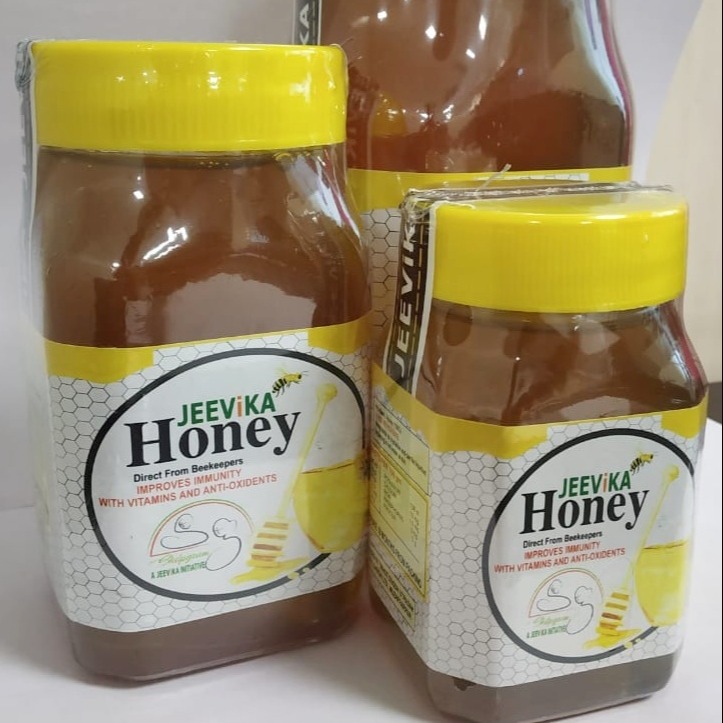 JEEViKA Honey
JEEViKA in Bihar, has become a name that entrusts support and empowerment of poor households of Bihar through various interventions.
With its vast reach and continuous efforts among the most remote areas of Bihar, jeevika has been able to promote activities through which our rural poor can earn livelihood and increase their income.
Beekeeping is one such activity through which jeevika trying to contribute in the dendrology of poor families of Bihar.
Beekeeping/honey production is a very attractive agriculture/horticulture-based activity.
In Bihar beekeeping is a traditional activity of forest areas.
---
Shop for the upliftment of rural poor
Jeevika has been able to bring to its fold 2500 individuals/households. Jeevika in Liaoning with Dabur and other govt. training institute as well as a jeevika in house developed training module, it has trained and provided exposure to its SHG members in beekeeping practice.
From past 6 years continuous efforts has been made among jeevika SHG members to make beekeeping a livelihood generating activity.
Today, our 2400 SHG members from all over Bihar are together producing 1300 tons of raw honey. Their net income has increased to around ₹35000 yearly.